Solo exhibition Almost,
het Labo Atrium, Tokyo, 2019.
In the dictionary, the word "almost" means: nearly, about, approaching, close to, virtually, practically, roughly, all but, just about, not quite, on the brink of, not far from, approximately, as good as...
In the exhibition Almost, the artworks are never quite what they look like and question the meaning and interpretation that can be given to an image. Almost in black and white, a few touches of color brighten up the ensemble, a nod to Japan, with the pink of the cherry trees in bloom at the time of this exhibition, and the indigo blue commonly used in traditional dyeing.
Crumpled Memories is a wall installation of delicate white pieces that look like folded and rolled paper but are actually made of porcelain.
The series of drawings Nearly (2019) offers various representations of the same image. Assembled in pairs, the drawings play with oppositions as well as well as with complementarities: the image can be read as a full or empty shape, as a discreet or strong presence, etc.
In the What Happened series, very dark photographs evoke mysterious situations and atmospheres.
Among the color photos displayed on the table, Broken Ice looks like crushed glass while the accumulated petals of Fallen Petals seem to literally pile up on the paper.
Almost-nothing (2019) is a trio of wall pieces in relief. Gauze petals are delicately fixed on translucent tracing paper. Almost indistinguishable, the petals seem to float in front of the wall and are rendered visible by their shadows.
The book perpetratio (2009) echoes the photo series What Happened as well as the drawing series Nearly, with the succession of the same transformed image along the pages, and by the interplay of colors and densities, from the lightest to the most saturated.
Crumpled Memories
See details.
What Happened
See details.
Broken Ice and Fallen Petals
See details.
perpetratio
See details.
01/12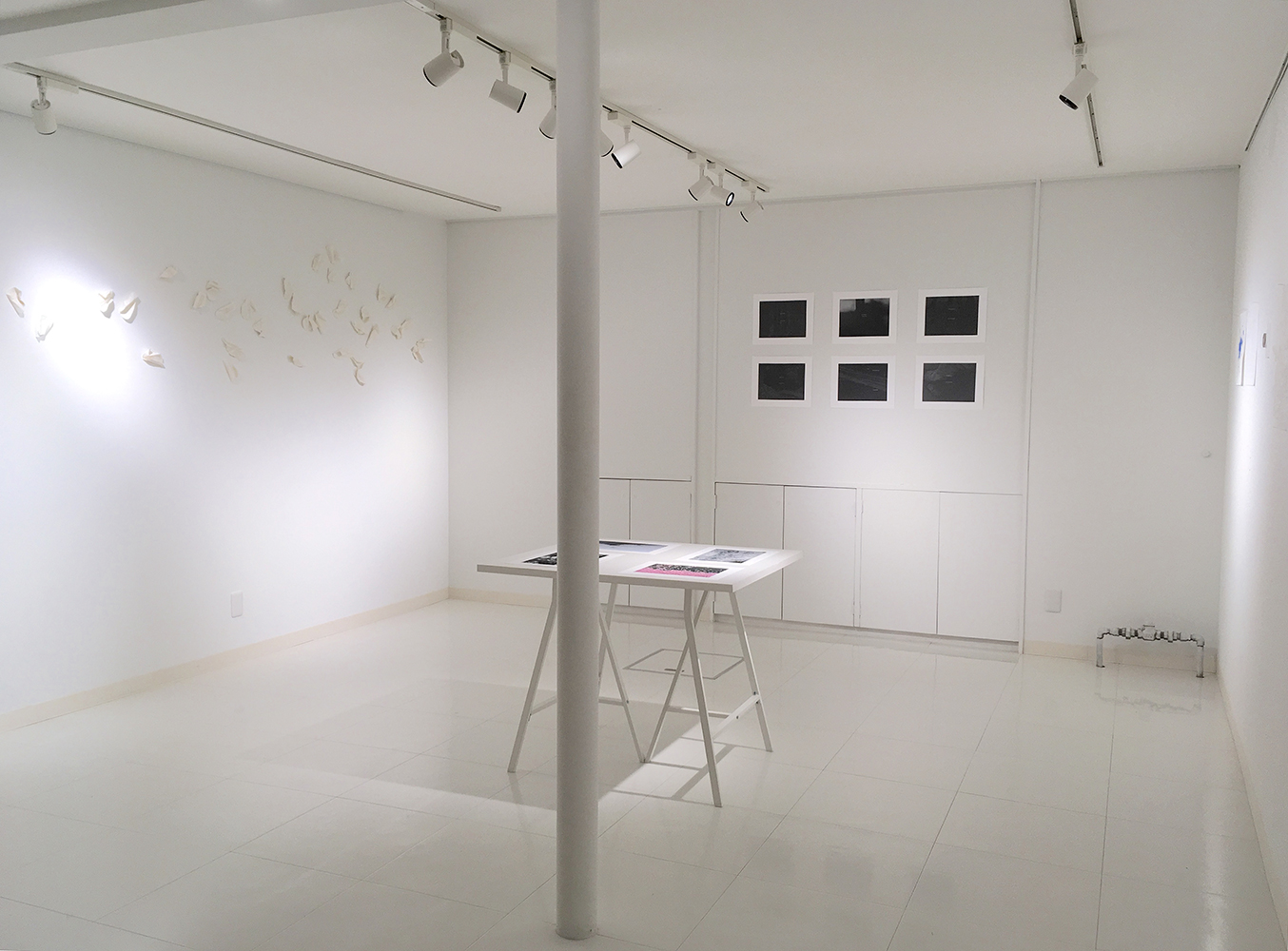 Exhibition view, het Labo Atrium.
02/12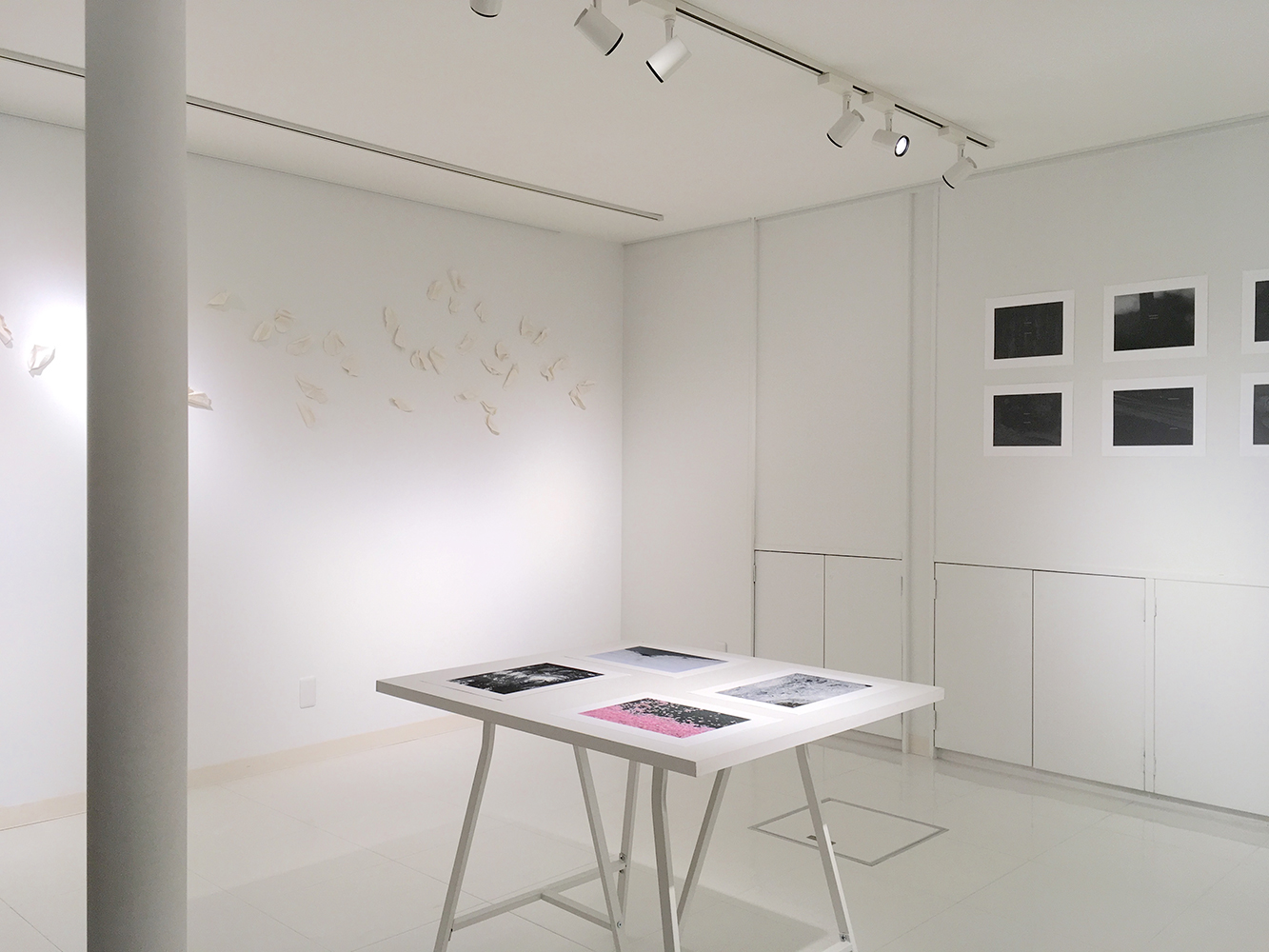 Mural installation Crumpled Memories,
series What Happened
and photos displayed on a table.
03/12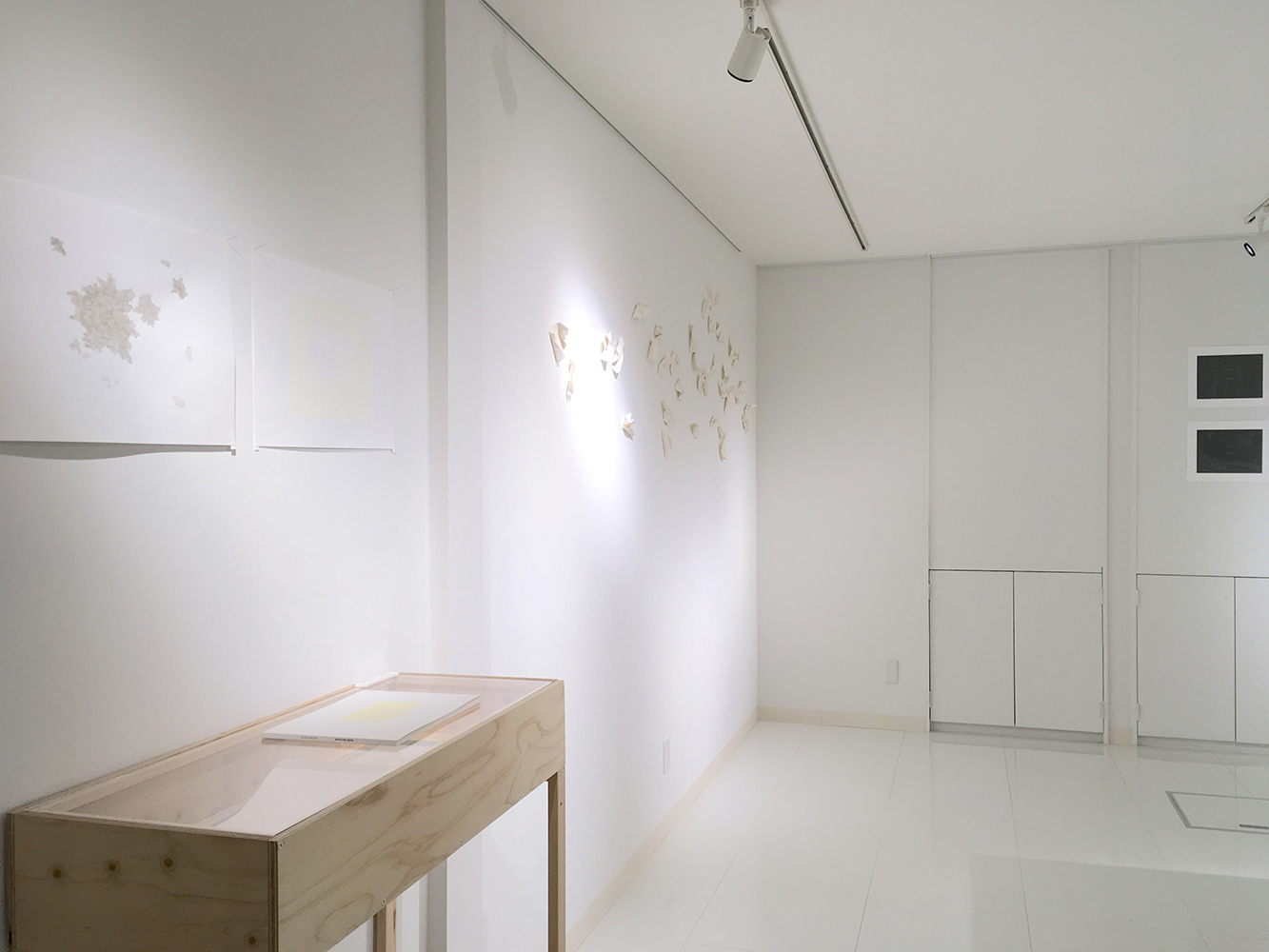 Left wall.
Duo of drawings Nearly,
book perpetratio
and mural installation Crumpled Memories.
04/12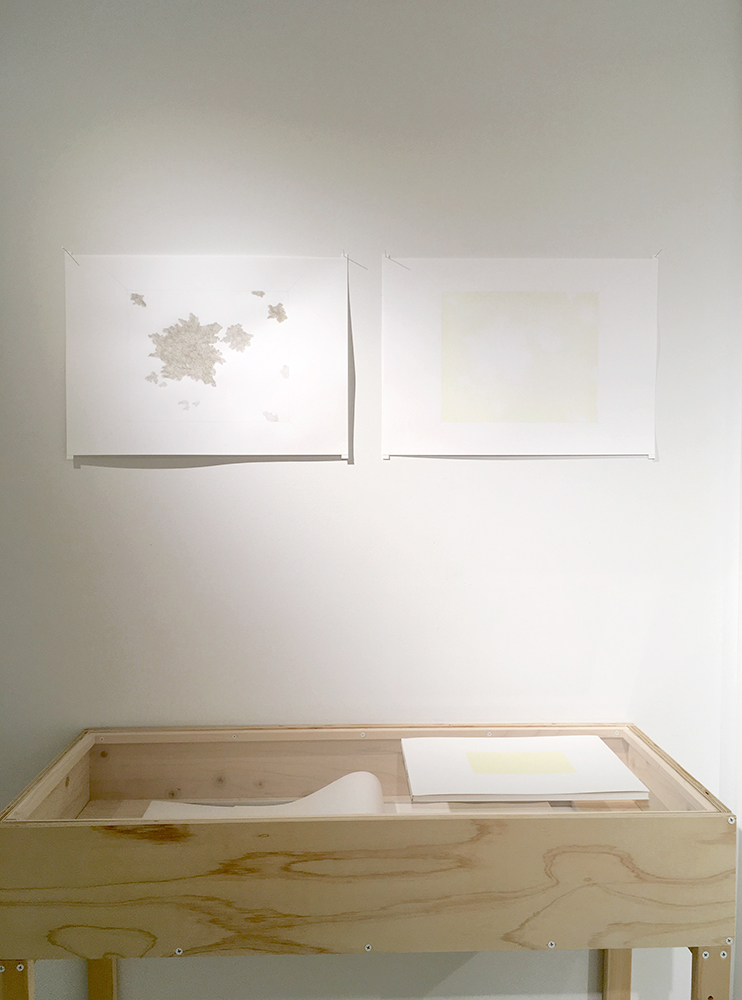 Duo of drawings Nearly
(strong gold and light gold)
above the book perpetratio.
05/12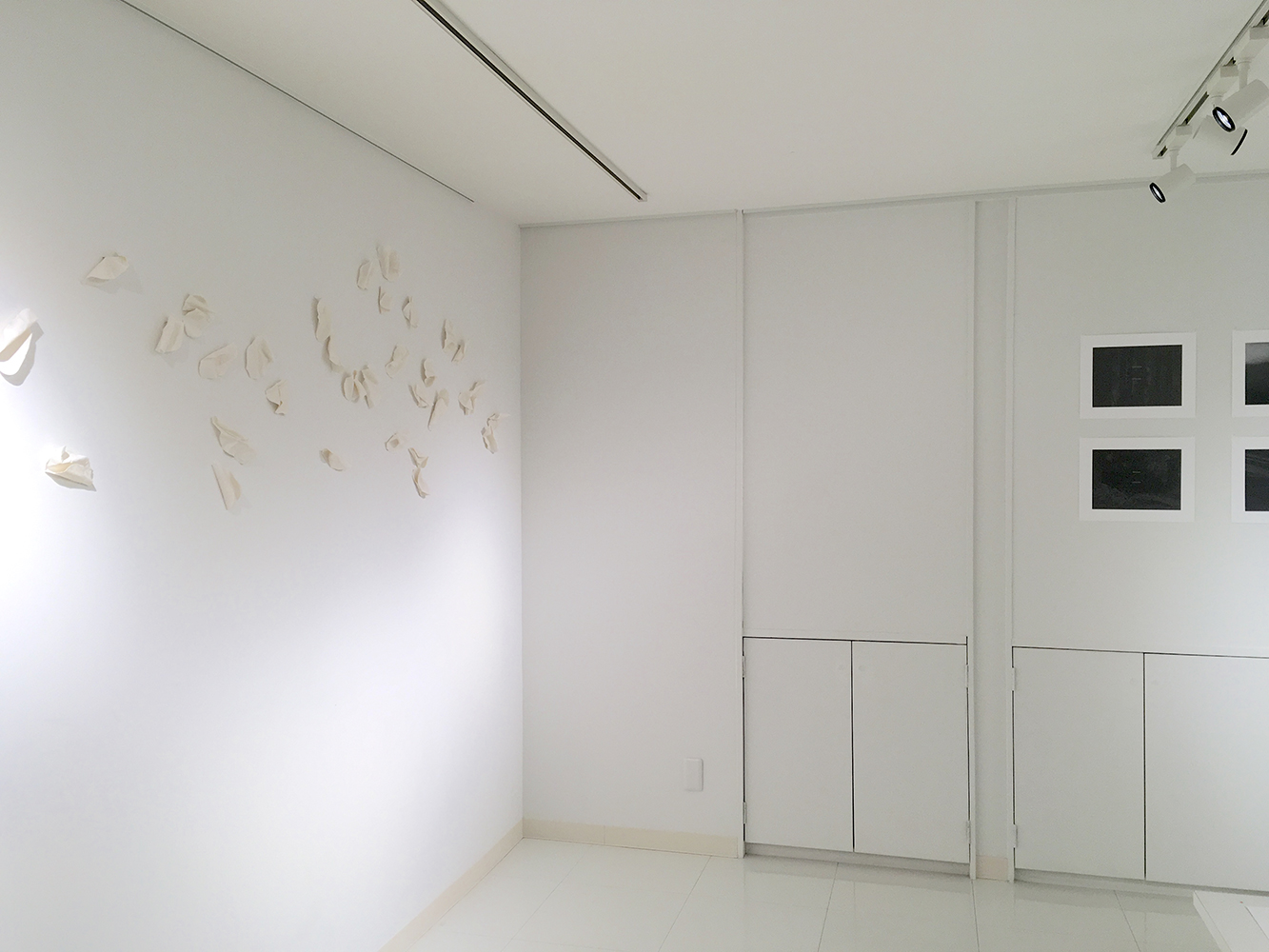 Crumpled Memories
and What Happened.
06/12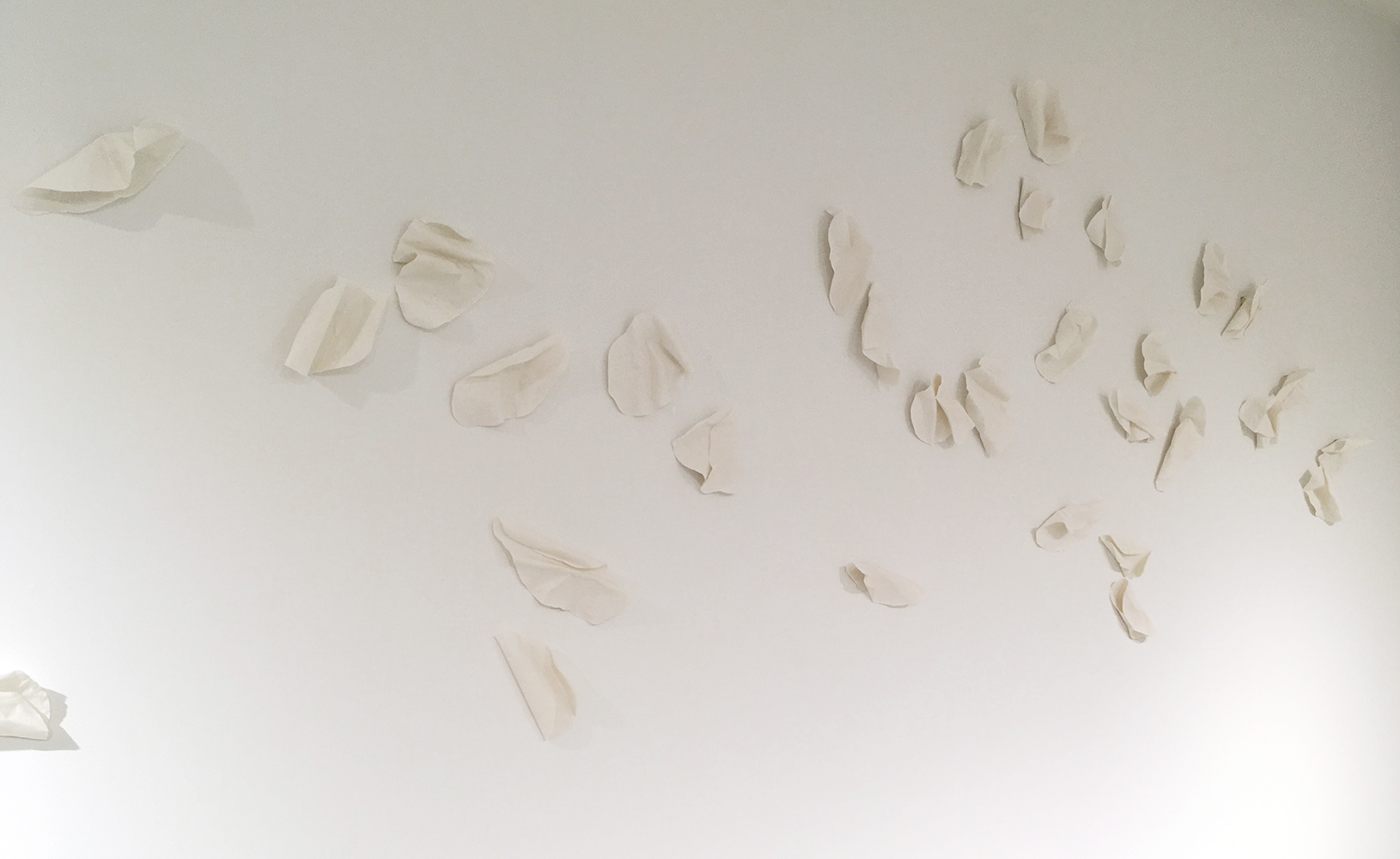 Mural installation.
07/12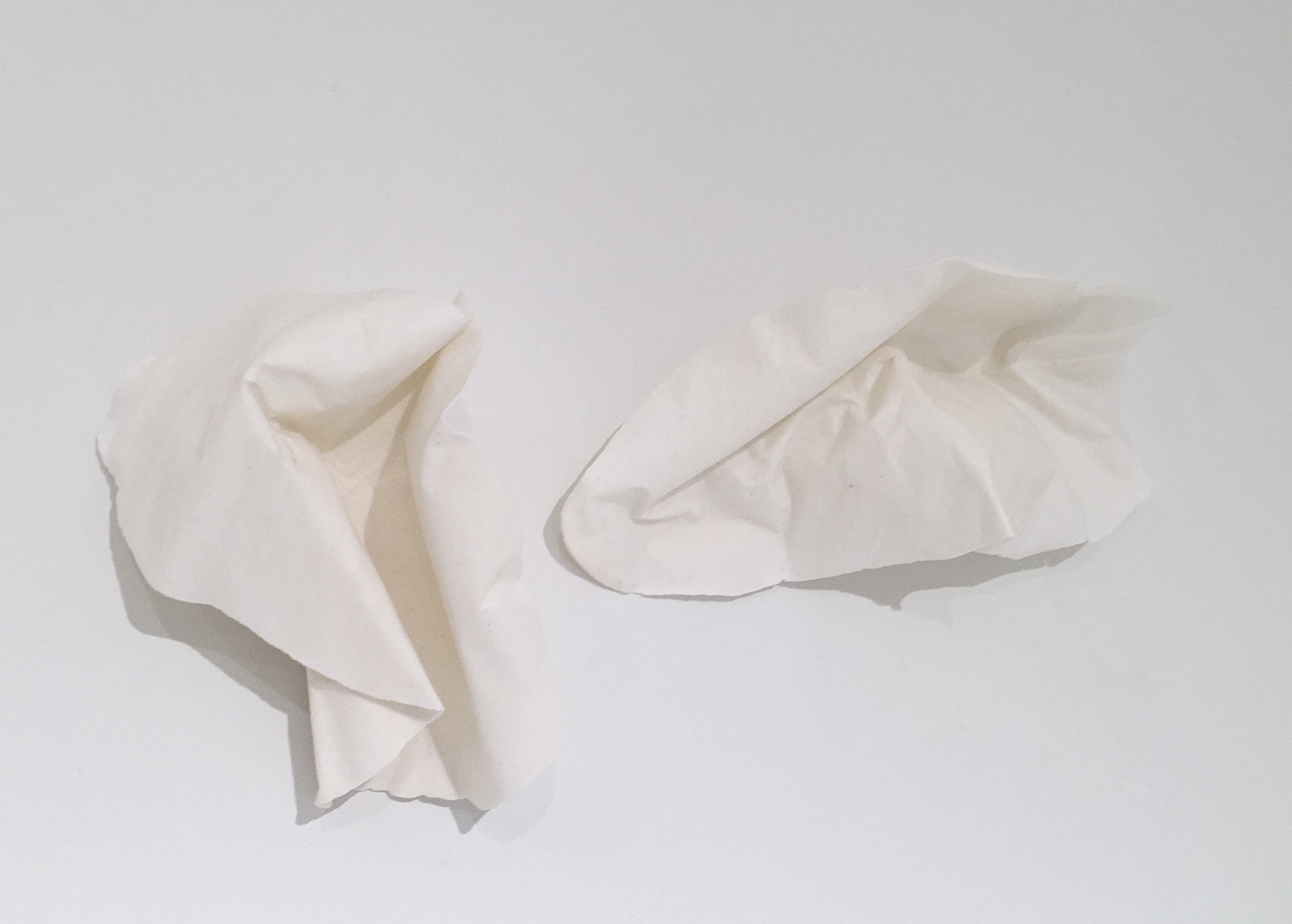 Crumpled Memories, detail.
08/12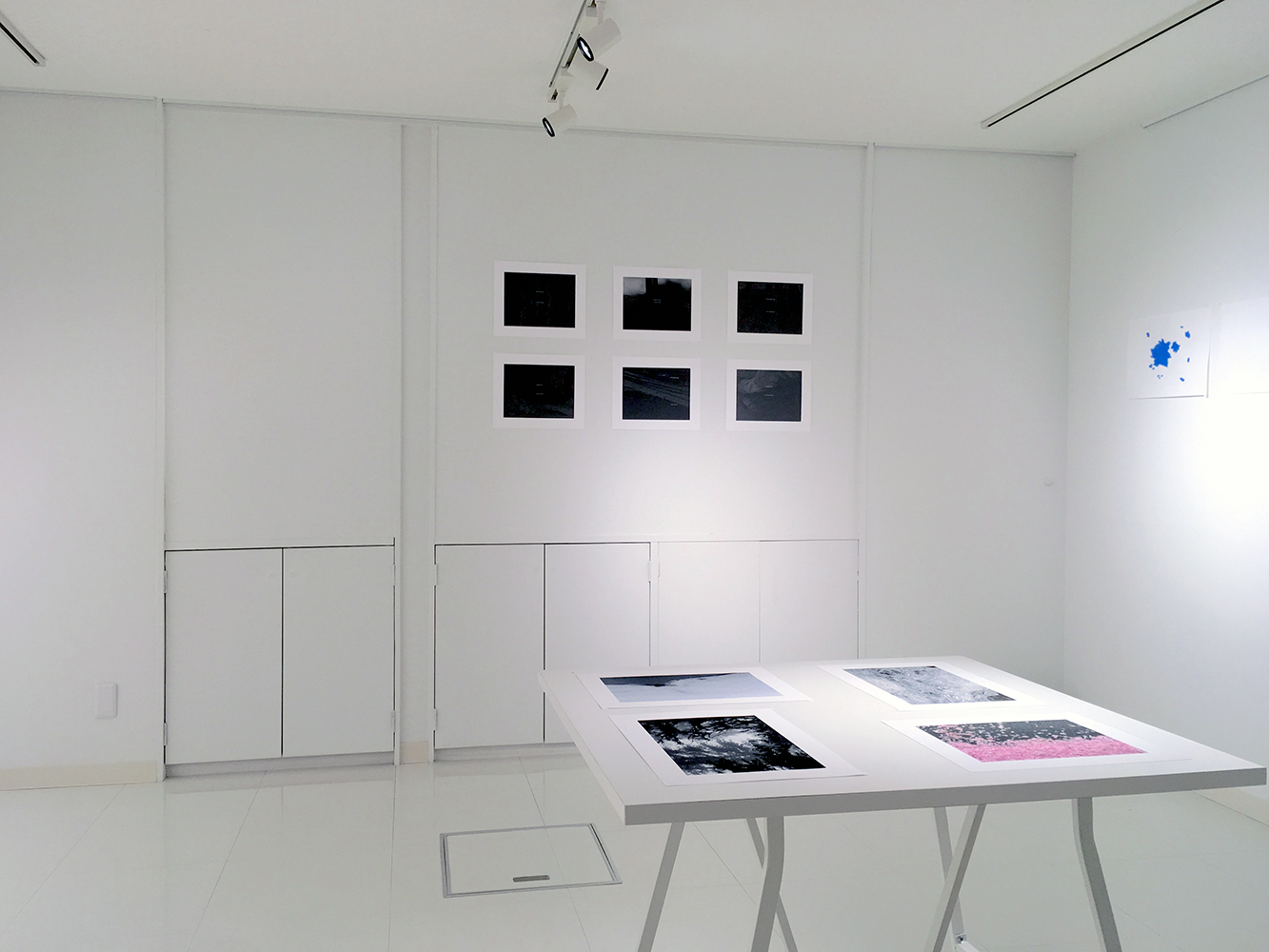 Series What Happened
and photos displayed on a table.
09/12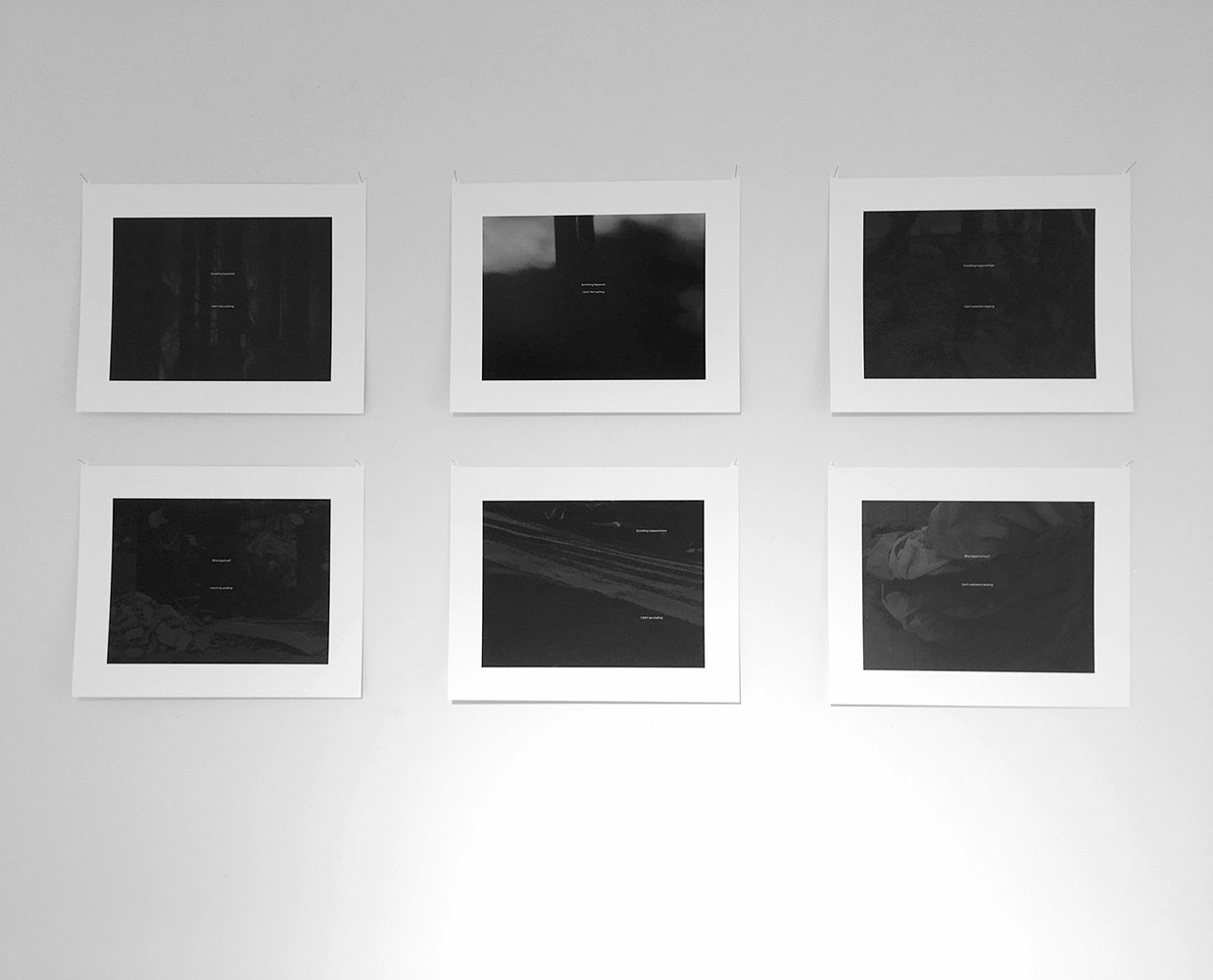 Series What Happened.
10/12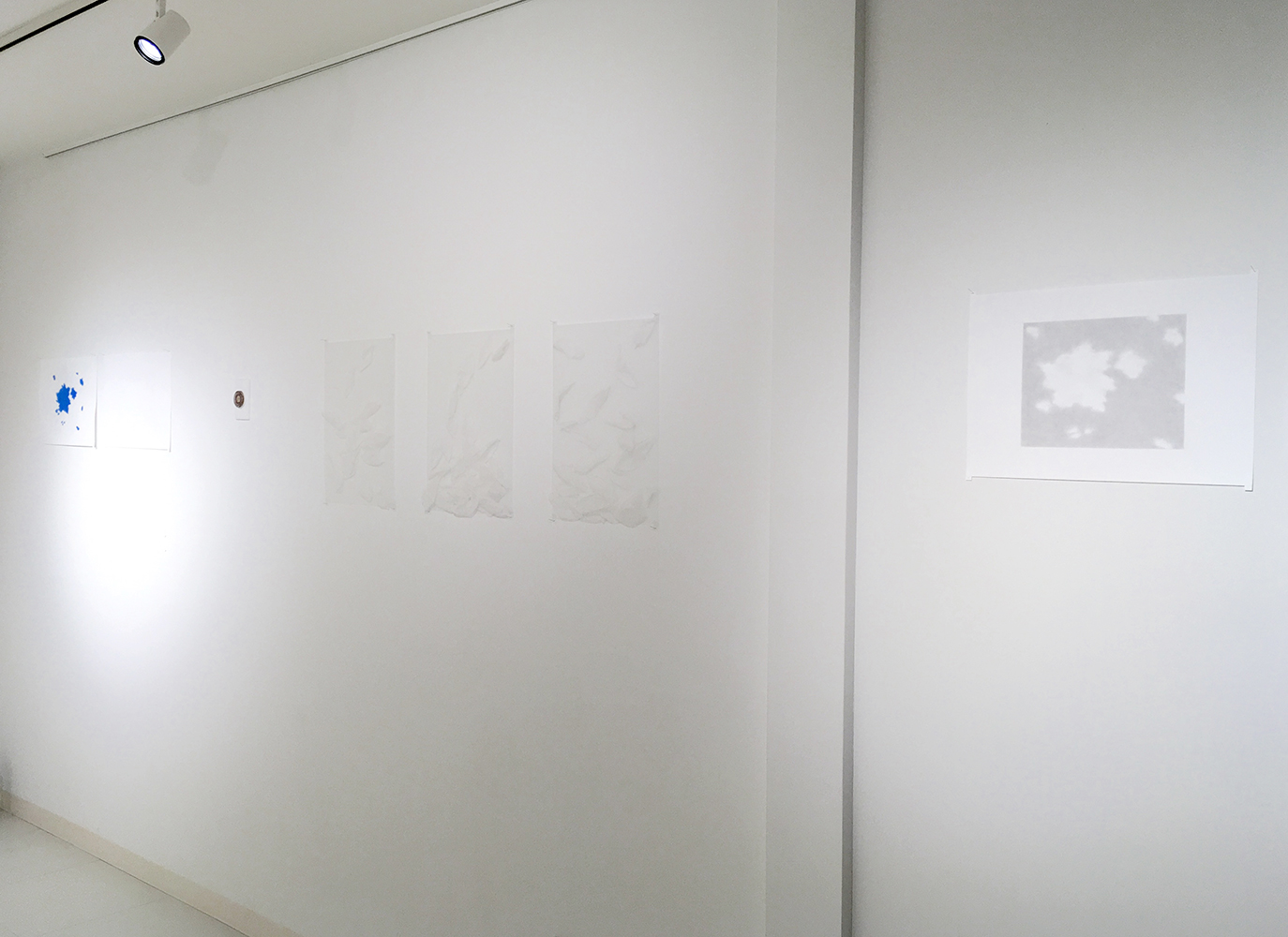 Right wall.
Drawings Nearly (blue),
trio Almost-nothing,
and drawing Nearly (grey).
11/12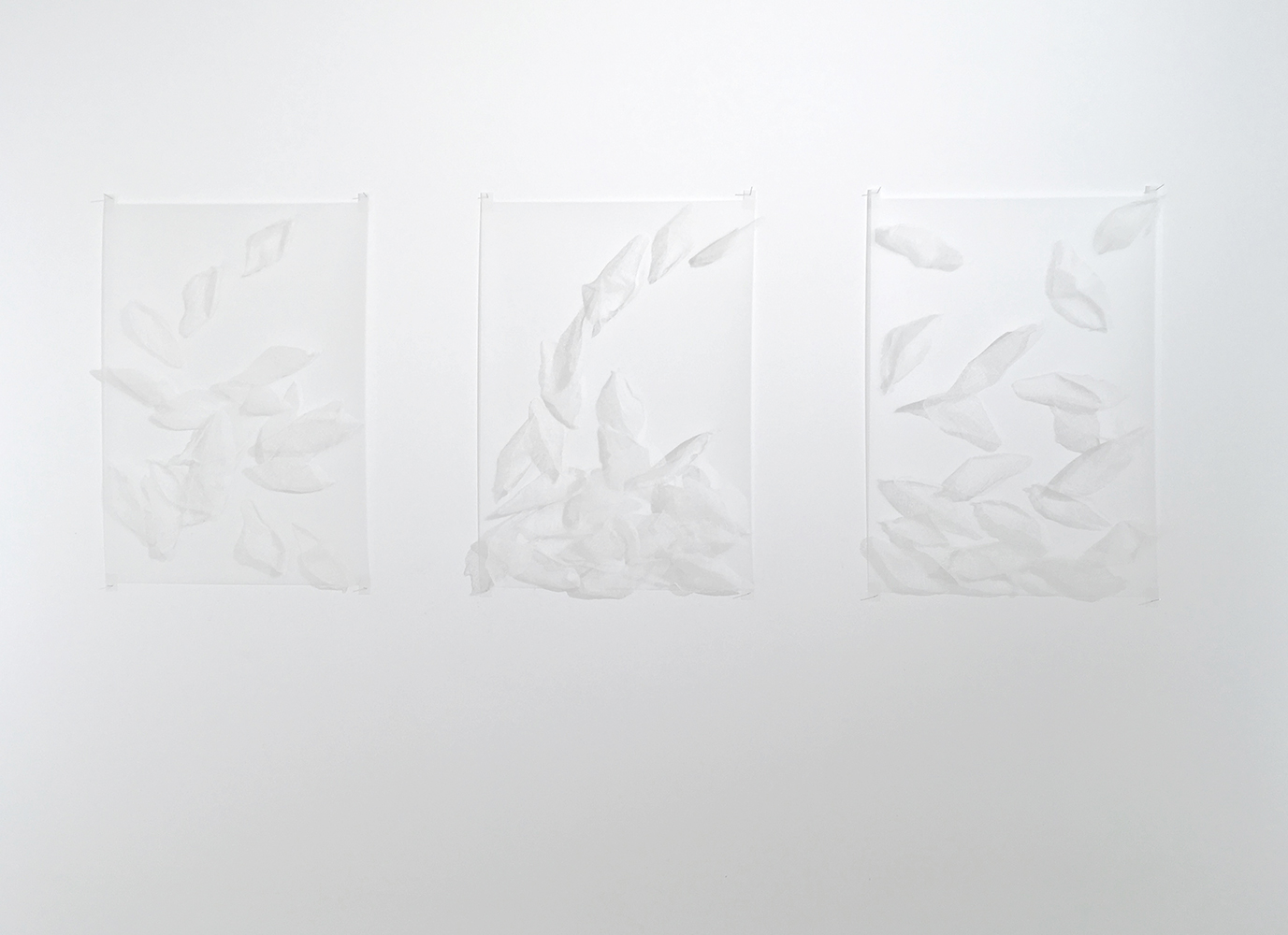 Trio Almost-nothing.
12/12
Duo of drawings Nearly
(strong grey and light grey).